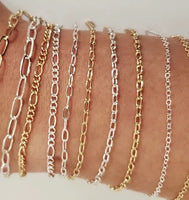 PERMANENT JEWELRY!
We are so excited to now offer Fuzed permanent Jewelry at Modern Dress! A concept of jewelry designed to last forever. Custom measured pieces of jewelry that are permanently welded together on to you. Our pieces are waterproof, sweat proof, and hypoallergenic. You will be able to chose from silver or gold bracelets, necklaces, and rings! 
Book your appointment!
Shop Modern Dress Boone, Iowa.
Modern Dress is in the heart of downtown. Our store carries quality women's clothing with unique accessories and gift items. Modern Dress prides ourself in exceptional customer service with high quality brands. Stop in store today to check it out, 701 Story Street Boone, IA.